Our knowledge center is your portal to access technical information about our products.
Engis Corporation
Individuals accessing our content may view, reproduce or store copies of such content provided that it is used only for personal, non-commercial use. Any use of such content in whole or in part must include the Engis copyright notice. Excerpts and links may be used, provided that full and clear credit is given to Engis Corporation with appropriate and specific direction to the original content. Unauthorized use and/or duplication of this material without express and written permission from Engis Corporation is strictly prohibited.
The Effect of Diamond Powder Characteristics on Lapping
of Sintered Silicon Carbide
By BENJAMIN ROSCZYK, ARTEM TITOV, ERIC BURKAM, CLEMENT ONYENEMEZU, Ph. D. AND ION C. BENEA
Abstract - This paper was presented at Intertech 2015, May 19 -20, Indianapolis, Indiana, and was published in proceedings of the conference.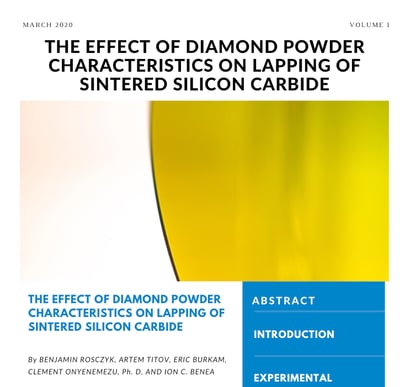 Flat Lapping Ceramics with Diamond
by John Smallshaw, Engis Corp.
Precision lapping improves mechanical seal quality and reliability at Morgan Advanced Materials.