Hyprez Lap Plates
Engis manufactures a complete line of lap plates, including metal composite, solid metal, and fixed abrasive options. Our applications experts can recommend the best lap plate for your application.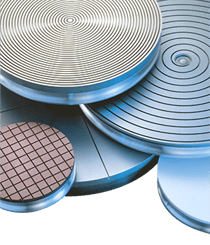 An efficient lapping operation requires the selection of a proper lap plate. This selection is guided by the process objective (stock removal, fine finish), the material being lapped, and the diamond size/type used in the lapping slurry.
A composite lap plate is comprised of metal or ceramic particles in a resin matrix, allowing for efficient charging of diamond abrasive particles into the plate. This charged composite plate can significantly reduce process times and achieve a finer surface finish, often in a single step. A composite plate is also well suited for a facing device, taking the guess work out of flatness and texture control.
Hyprez® X08
Composite Iron plate with most aggressive stock removal; good alternative to cast iron
Hyprez®C250
Composite copper plate; our most universal plate, often used for single step operations
Hyprez®X100
Composite aluminum plate; good substitute for C250 when copper contamination is a concern
Hyprez® TX-10A
Composite tin plate; very fine finish, minimizes or replaces pad polishing to maintain flatness
Hyprez® HY Ceramic
Composite ceramic plate; used when metal free processing is required
Hyprez® Composite plate configurations
Sizes from 1" to 100" OD
Available mounted to a solid metal base, or unmounted with mounting kit
Wide range of grooving options: concentric, radial, spiral, square, custom