Hyprez® FastLap Lapping & Polishing Machines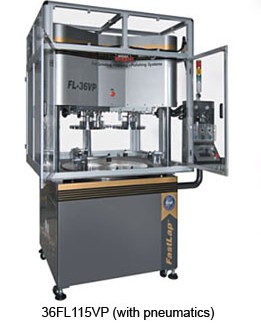 The FastLap Series of Lapping & Polishing Machines are built for versatility and speed. These machines can be customized from a basic tabletop model to a large floor-standing model with advanced process controls.
Built with heavy duty spindle bearings, they are designed to withstand the high loads necessary for diamond processing of hard materials.
FastLap Standard Machine Models
(additional sizes available)
Standard Models
FL15
FL20
FL24
FL28
FL36
FL42
FL48
Lap Plate Diameter
15"
381 mm
20"
508 mm
24"
610 mm
28"
711 mm
36"
914 mm
42"
1067 mm
48"
1219 mm
Maximum part Diameter
(inside work ring)
5-7/16"
138 mm
7-7/16"
188 mm
9-11/16"
246 mm
11-15/16"
303 mm
14-7/16"
366 mm
16-15/16"
430 mm
16-15/16"
430 mm
Work Stations/Rings
3
3
3
3
3 or 4
3 or 4
3 or 4
Maximum Plate Speed
90 rpm
90 rpm
90 rpm
90 rpm
70 rpm
70 rpm
50 rpm
Maximum Pneumatic pressure
(per spindle, all spindles engaged)
100 lbs
45 kg
200 lbs
90 kg
300 lbs
136 kg
500 lbs
227 kg
1100 lbs
499 kg
1100 lbs
499 kg
1600 lbs
725 kg
Built-In Machine Options

Basic
Advanced
Controls
Digital
Touch-Screen PLC
Pressure
Hand Weight
Pneumatic
Work Ring Rotation
Yoke/Roller
Power Assist or Direct Drive
Lap Plate Control
Plated Conditioning Ring
Facing/Grooving Device
Slurry Control
External (EMC-3)
Integrated with PLC
Automated Thickness Control
-
Integrated with PLC
Materials
Cast iron/aluminum
SUS table, trough, pressure plates
Low Pressure Option
-
Counterbalance
Temperature Control
-
Water cooled drive wheel
Temperature Monitoring
-
3 location sensor over plate
Torque Monitoring/Control
-
With optional cut-off
Environmental Control
-
Workspace enclosure
Recipe Storage
-
Up to 100
Data Capture/Barcode Scanning
-
User specified