Diprofil Finishing Systems
Engis Corporation is proud to be a valued distributor of Diprofil Finishing Systems and the factory authorized repair facility for all Diprofil reciprocating and rotary tools. Our relationship with Diprofil goes back more than 50 years, making Engis the oldest Diprofil distributor in North America.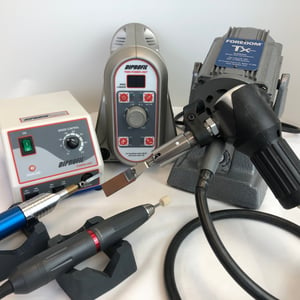 The Diprofil brand is well known for its robust construction, high torque, reliability, and precision. Many Diprofil tools see decades of service before requiring any type of repair. Not only does Engis stock spare parts, but our technicians can give rapid turnaround on any warranty or service work. No other Diprofil distributor can deliver on this promise!
Diprofil hand tools have been the benchmark of quality tooling to Mold & Die Makers for many years. Reciprocating or rotary, Diprofil hand tools are robust and built to last.
The Classic or Di-Pro (low vibration) reciprocating hand tools are robust and designed for light-medium filing, honing, or polishing driven by either a Foredom electric motor or air driven.
The C-HPM series of rotary hand tools offers quick change design for the collet and the tool. They are used together with power unit DPU-3 or the twin power controller Marathon HA-700.
Both power units are designed for dedicated reciprocating or rotary hand tools.