Hyprez® Lapping and Polishing Slurries
As part of our complete solution, Engis manufactures a complete line of precision graded diamond slurries or aluminum oxide powder with lapping oil for achieving flatness control and excellent surface finish on a wide variety of materials.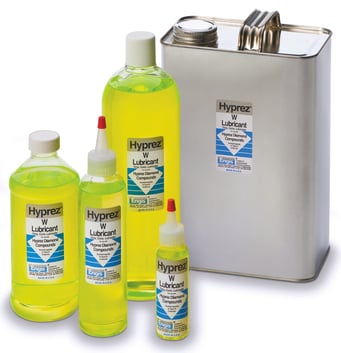 Why diamond?
Reduce lapping times from hours to minutes
Reduce slurry usage and waste from gallons to pints
Achieve a reflective finish in a single step, eliminate hand polishing
Cleaner process, cleaner parts
Process a wide variety of materials
Why Engis?
Engis is a micronizer – we purify, precision grade, disperse, and custom formulate our slurries, where others are simply repackaging. We are unequaled in our ability to precisely characterize and control particle size distributions (PSD).
Applications expertise – our engineers can provide the full process recommendation for your part/material - not only the best slurry formulation but also the polishing machine, lap plate or pad, accessories, and process settings.
Engis Diamond Slurries
Engis provides a broad range of diamond slurry formulations; our standard formulations are shown in the table below. Custom formulations are available. Simply choose your formulation and specify:
Diamond type (polycrystalline, monocrystalline)
Diamond size (available from 50 nm to 60 micron)
Package size (pints, quarts, gallons)
Our experts are happy to guide your choice of slurry based on your application, material, and requirements.
| Slurry Formulations | Water Soluble | Oil Based | Emulsion | Low Viscosity (<10 cP) | Med Viscosity (10 - 100 cP) | High Viscosity (permanent Suspension) | Only Non-Haz Components |
| --- | --- | --- | --- | --- | --- | --- | --- |
| S4243 | ✔ | | | | | ✔ | |
| S7459-2 | ✔ | | | | ✔ | | |
| S4889 | ✔ | | | ✔ | | | |
| ECOLAP 2000 | ✔ | | | ✔ | | | ✔ |
| S1313-T4 | | ✔ | | ✔ | | | |
| ECOLAP 1001 | | ✔ | | | ✔ | | ✔ |
| S841 | | | ✔ | | ✔ | | |
Aluminum Oxide powder with Lapping Oil
Low cost and recyclable
Used for achieving matte finish
Powder sizes from 5 – 50 micron