Dia-ForZ Diamond Tooling for Foundry
Dia-ForZ diamond plated grinding wheels offer several significant advantages over conventional bonded abrasive wheels in many foundry applications.
Increased safety

Increased cutting action - Better ergonomics and less fatigue

Longer wheel life – Higher productivity and lower costs

No loss of wheel diameter or peripheral wheel speed due to wheel wear

Virtually no grinding dust from wheel wear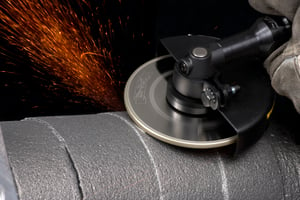 Dia-ForZ Diamond Grinding Wheels for Hand Grinding
Portable Type 1, Type 6, and Type 27 versions

Cut-off wheels
Burrs, cones, and plugs
Custom applications and designs
Dia-ForZ Diamond Grinding Wheels for Robotic Cells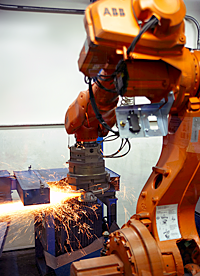 Diamond wheels specifically designed for use in today's automation and robotic work cell
Increased uptime and throughput
No offsets and wheel wear
Decreased environmental impact
Reduce airborne particles – cleaner work cells
Strip and Replate Service on any wheel blank regardless of the original manufacturer.
Click here to learn more about Engis Re-Plating/Reconditioning Service.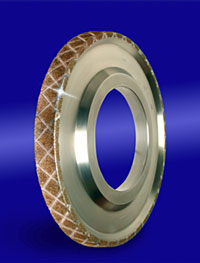 Dia-Forz Product Development
Our product development never stands still. Our team of product engineers is working on a number of new Dia-ForZ products to complete our product offerings. We have Cut-Off wheels, Type 6 cup wheels, and Stand Grinder wheels. We work with casting materials beyond gray, ductile, and malleable iron, such as carbon steel, stainless steel, brass, high nickel alloys, and aluminum.
Please contact us with your specialty application to design and provide you a wheel for your specific applications.