Single-Pass Honing Bore Finishing Process
The Single-pass honing/bore finishing process involves a series of pre-set diamond coated tools that get passed through a bore with a single in-and-out stroke movement while the tool, part, or both are rotating.
Product Focus:
Single-Pass Bore Finishing Process
Superior Quality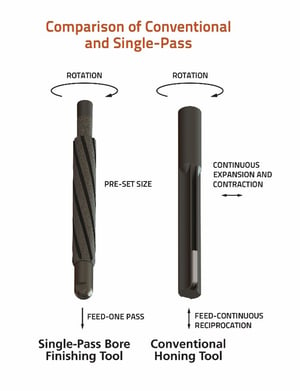 Single-Pass Bore Finishing vs. Conventional Honing
Conventional hole finishing/bore honing utilizes a tool with cutting surfaces that expand and contract as the tool reciprocates in the bore through the cycle. Unfortunately, simultaneous radial and axial movement makes controlling bore size (ID) and geometry (cylindricity) more difficult. Conversely, the Engis single-pass bore finishing process uses fixed-size bore finishing tools electroplated with diamond abrasive particles. These tools pass through the bore only once, removing a specific amount of material. Using a series of progressively larger bore finishing tools (coated with progressively finer superabrasive particles) enables precise and repeatable control.

Shortest Cycle Times in the Industry
Because Engis single-pass technology spreads the workload over a range of tools on an indexing table, cycle times can be dramatically reduced versus conventional stroke honing or other finish bore operations.
The Engis system optimizes a combination of software, in-process sensors and sophisticated engineer
ing to achieve the most efficient cycle times.
Our application engineers have decades of experience working in-house in our laboratories, as well as in the field, to improve customers' part quality and productivity.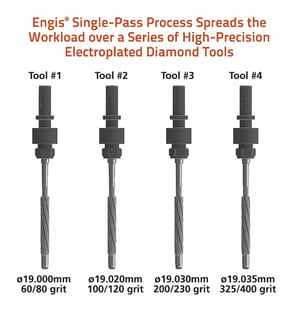 Superior Quality with Engis Single-Pass
With Engis single-pass bore finishing technology, extremely tight tolerances (such as 0.0005mm) on bore geometry can be maintained under production conditions.
The improved bore geometries translate directly into productivity gains and major reductions in costs.
The Engis system is user-friendly, the need for skilled operators in the honing department can be reduced dramatically, or even completely eliminated.
Engis has solutions for blind bores, components with windows and roll-over burrs, as well as long stroke applications such as gun barrels
If your application requires a lapped superfinish and or is small volume please contact our subsidiary company,